Once again alot of Club members have been out Racing during September here's a quick recap of how they've gone on
– Phil Gayes produced another strong ride to post a time very fast time of 56:59 when he took part in the Port Wheelers 25 mile TT in South Wales on the 6th of September. Placing Phil 26th out of 100 riders, great ride Phil
– Tony Cope took part in the Long Hill Hill Climb on the 6th of September which was ran by Buxton CC. With cold conditions and a cross wind Tony finished 4th in the veteran category and 22nd overall. Well done Tony
–  Phil Gayes posted a personal best time of 21:17 knocking 36 seconds off his PB when he took part in the Team Swift 10 mile TT near Hull on the 19th of September, Phil averaged over 28 mph in what weren't favorable conditions, fantastic ride Phil well done.
– Nine Club members took part in the Cat & Fiddle Hill Climb which is ran by Weaver Valley CC on the 20th of September. On a clear but chilly morning, all the riders produced very strong rides, with Tony Cope finishing with our best time of 22:58 finishing 9th in the veteran category and 39th overall out of 94 riders. The event overall was won by former Club member Adam Kenway with a time of 18:37, Well done to all our riders who rode, great effort.
Leek CC Cat & Fidldle HC Results (note not in result order)
Daniel Ralph –                      26.03
David Neill. –                         23.43
Craig Gilchrist. –                  25.07
Karl Clay. –                          23.48
Tony Cope –                        22.48
Paul Haywood –                  26.51
Rich Coates. –                    25.41
Phil Gayes –                        24.39
Rich Coghill. –                     23.40
– On the 27th of September three club members took part in the 2015 Great Orme Road Race in Llandudno, Wales. The race see's the riders do lap's around the famous Great Orme on the toll road. With great conditions Rich Coghill produced a very fine ride finishing 8th in the Masters Race followed by a strong ride from Rich Coates in 21st. Rich Whalley also finished in the bunch in the very tough seniors Race, well done lads.
– Also on the 27th of September, four club members took part in the Congleton CC Hill Climb, which took place on Ganny Bank just outside Biddulph. On a sunny and clear day, Rob Howson came a close second overall finishing just over a second behind the winner with a time of 5:46. Tony Cope produced another strong ride to finish forth overall with a time of 6:16, also John Green & Paul Haywood produced strong rides to finish 10th & 13th overall.
– Club Rider Will Neill took part in the incredibly challenging Three Peaks Cyclo Cross Race on the 27th of September, the Three Peaks race which is recognized as the toughest and biggest Cyclo-Cross event in the UK, takes place in the Yorkshire Dales and is a grueling 38 Miles long. Will produced an outstanding ride to finish 112th overall out of 536 riders despite unluckily buckling his rear wheel towards the back end of the race. Well Done Will great ride.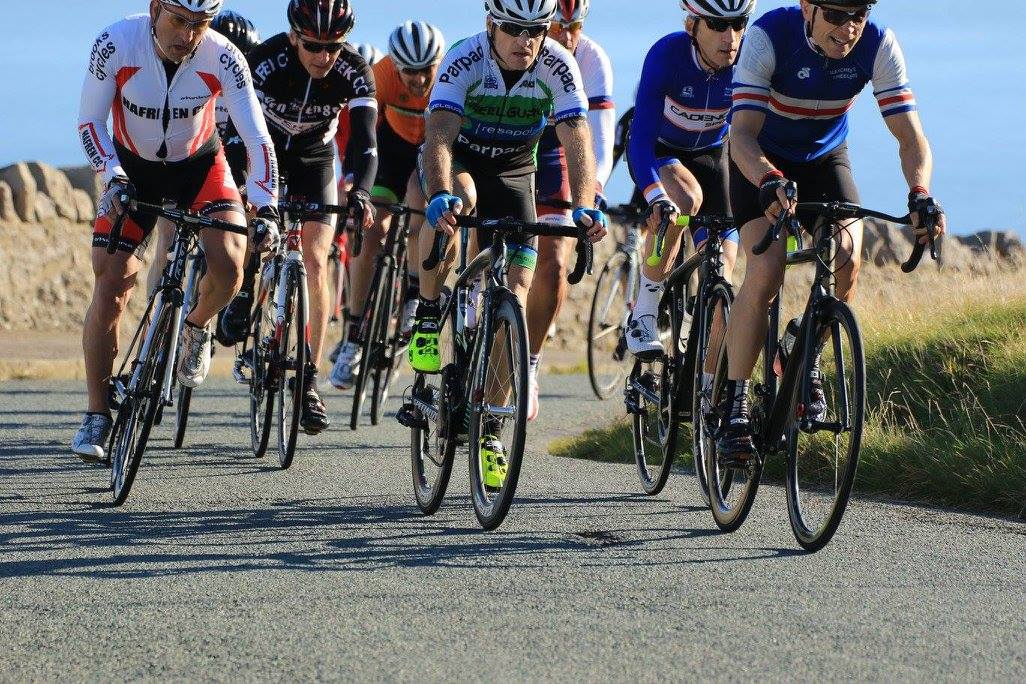 Rich Coghill second from the left taking part in the 2015 Great Orme Road Race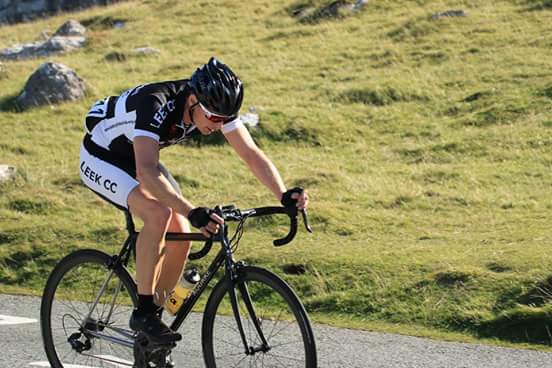 Rich Whalley during the 2015 Great Orme Road Race