"In order to relax, I ride the bicycle" Ralph Hutter, Founder member of Kraftwerk.
Nine riders set out for Mow Cop to support Rob Howson and Tony Cope as well as Joe Molyneaux who were riding in the Killer Mile hill climb. One unnamed rider prepared for the ride by staying out all night until four am then woke at twenty to nine and thought he would still join us on the ride. One can not help but think that the professionals are missing something in their race preparation. Not that this stopped him from passing other riders on the ride. We rode out along the main Macclesfield road and turned off to head towards Timbersbrook and past the Cloud before reaching Mosley. Here we turned off and managed to sneak past a road closure before Ganney Bank. We came to yet another road closure at Mow Cop but again, we dismounted and walked past a large, deep hole before walking up the bank. We met up with other club members who had ridden out to support the three club riders taking part which was great. Other riders had family to support them so a great turn out for the event. Rob and Tony and Joe set out to show Mow Cop who was boss and put in a great effort and flew the flag for Leek CC. It was decided to head to Congleton Garden Centre for a cafe break and Adrian Derbyshire and a non club rider joined us for the cafe stop. Here I was able to keep everyone entertained with my Raynards Syndrome which had made my fingers turn white with a lack of circulation although they soon warmed up after a coffee. Now you can see why I do not ride in the cold!
Rob Howson turned up just as we were leaving but rode with us through Mosley and up to the turn at Timbersbrook before making a more direct route home. We carried on to the Allgreave road and headed towards Flash before turning off for Roaches End where Ant A decided to ride on over Morridge. We re-grouped and headed up past Roach End and on to Meerbrook where Nick Deville turned off for Thorncliffe while the group continued to ride to Abbeygreen. We did not stop as normal but carried on after arriving back in Leek at 2.05pm after a forty five mile ride. Thanks to the Father of the peleton, Dave Magnier and Paul Haywood for leading the ride.
Written by Club Rider Nick Avins
Mow Cop Hill Climb Results (24 Riders Total)
4th –  Rob Howson  4.47.6
8th –   Tony Cope 4.56.6  & 1st Veteran
12th –  Joe Molyneaux  5.11.8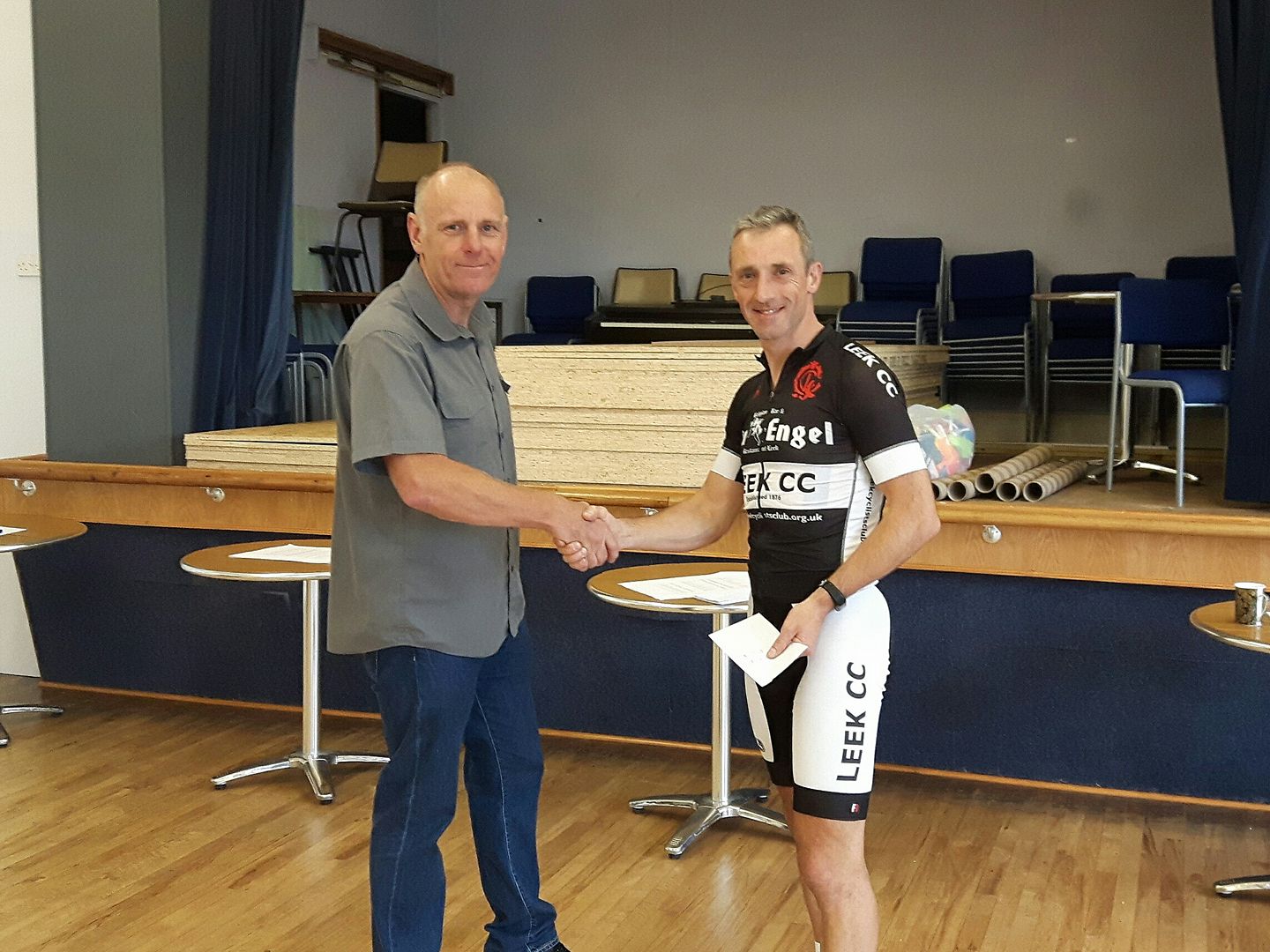 Tony Cope receiving his prize for 1st Veteran