Nine riders managed to get out of bed after having had an extra hour thanks to the clocks going back by an hour at two am. The eight am group had gone to visit the Anderton Boat Lift so we decided to ride to Bakewell. We set out along Buxton road and turned for Thornclife and climbed up to Moridge. Here "Two Sauces" overtook me just before the brow of the hill, the shame, the shame! We dropped down in to Warlsow and on to Hulme End and Hartington where we turned off to head down Longdale where we were faced with a headwind all the way. We re-grouped at Monneyash but here Steve B turned off as he had to be back early so we carried on to Sheldon bank where someone decided to turn off for Bakewell halfway down which took us on a lane which had a flail cutting the hedges so that was fun. Most of the group managed to ride through the thorns but Paul H and new member Rob suffered puntures which took some time to repair as the thorns were so long they could have their own display cabinet in Den Engles. The rest of the group were in the zone and responding to the call of the bacon baps so they were just leaving as we arrived.
After a warm up and Coffees we decided to ride back past Haddon Hall and head to Winster. Here Paul H had a chain problem but we soon dealt with it and were on our way again. We headed towards Newhaven and dropped back down in to Hartington which was a fun ride. We turned to climb out of Warlsow and up to Morridge. Here we had a surprise as we came round a corner to find the other group just turning from Reapsmoor. Even though they left the cafe early, we had managed to catch up which says something for our pace. Of course, we wee not going to let them get in front so Paul H picked up the pace and we soon dropped the other group. We arrived back in Leek at 2pm after a fifty two mile ride. Thanks to Paul H for leading the ride. I should like to point out here that even tractor tyres can be defeated by thorns, having driven  a flail hedge cutter before. Not that is helps when you are at the side of the road but maybe it makes you feel better.
Written by Club Rider Nick Avins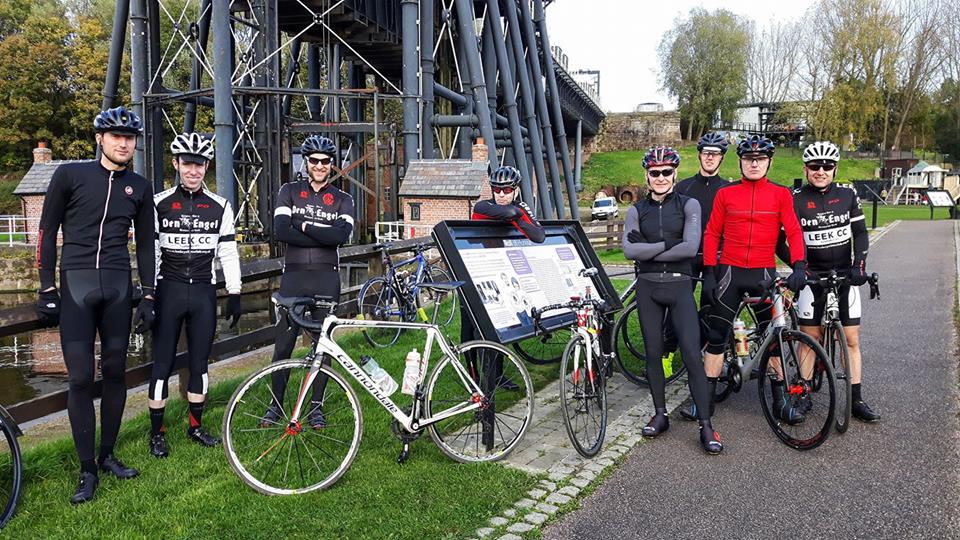 The riders who rode the early Club Run this week, are pictured at the Anderton Boat Lift near Northwich. A decent ride through the Cheshire lanes.