Sixteen riders turned out to ride to Lyme Park while the short group headed to Jodrell Bank. We rode down Mill Street and past Rudyard before turning off for Wincle. Here we re-grouped before heading along the Goyt Valley where we had to slow for two run away sheep. we passed over the Cat and Fiddle road where riders were warned about the steep descent and gravel on the bend but all managed to ride down safely. We rode through Pott Shrigley and on to Poynton before reaching the A6. Due to the traffic, we decided to turn off and climbed a steep hill before dropping back down on to the A6 just before the gates to Lyme Park. We had a slight struggle to locate the cafe as it is hidden by the lake but soon we were in line for coffee and cakes as well as bean on toast. Dan N decided to head back and we could not tempt him with a cake but it was nice to see him out. I have wrote about some of the history behind Lyme on our last visit but will add it was the home of the Leigh family from 1643 until 1946 which is quite a record of ownership.
We again struggled to find the private drive out of the park but after a little detour, we found it and carefully made our way out as it was rough in places. We took on a steep climb before turning off for Kettleshulme before tackling another long climb to the top of Pyms chair where a stop was made to admire the view  and to get our breaths back. We dropped in to the Goyt and again crossed the Cat and Fiddle road before dropping down to Axe Edge before turning for Flash. A stop was made at Flash Bar for drinks for some riders but we were soon on our way in to Flash and on to the Back of the Roaches. Here, we could ride pass the recent fire damage to the hill sides and it was quite shocking to see how close it came to two cottages. We dropped down in to Meerbrook and in to Abbey Green. Some riders turned off before reaching Leek but the rest arrived back at 14.32, after a fifty seven mile ride. Thanks to Dave M for planning and leading the ride.
Nick A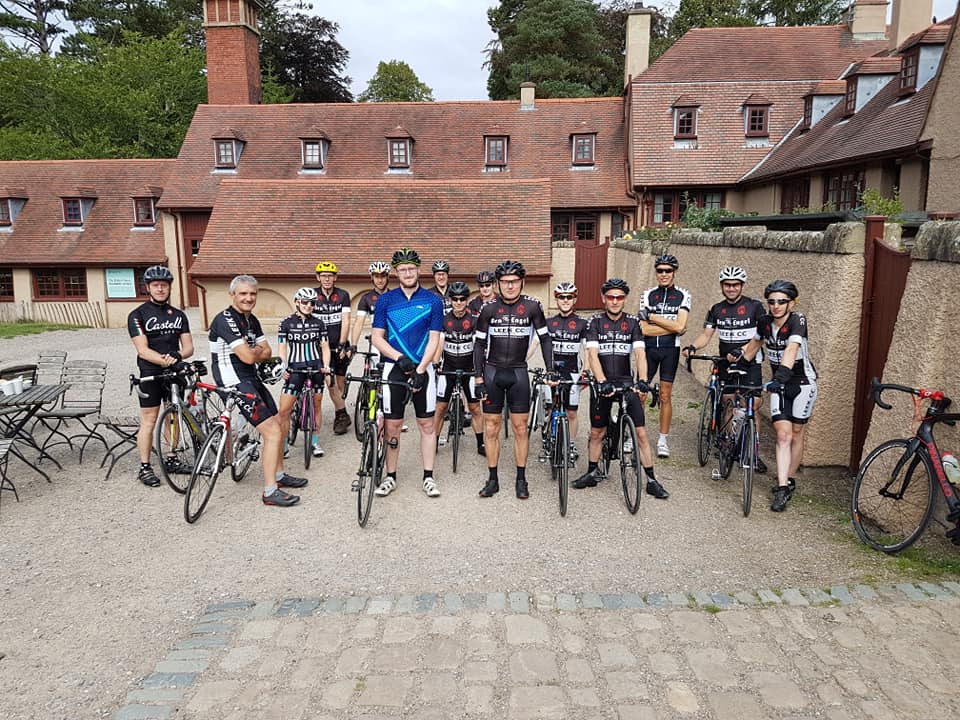 All of the 9AM riders outside the cafe at Lymm Park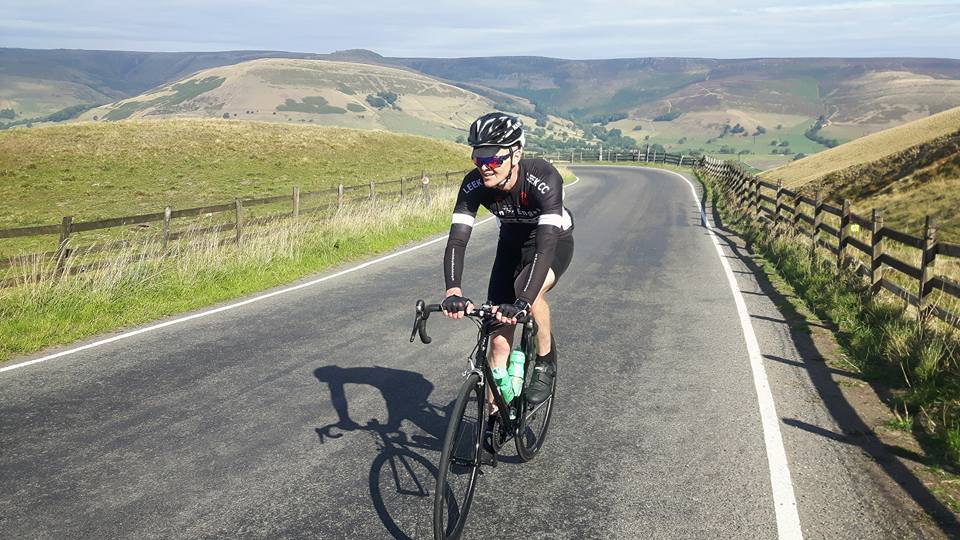 & above is a photo of Barry Riley taken on the tough Mam Nick climb during the 8AM Club Run over to Hope, 60 miles all in.