History of Leek Cyclists Club founded in 1876

Thursday August 3rd. was the date that Leek Cyclists' Club set out on its 140 year journey to 2016 In that time the club has seen many changes and endured many hardships.
When first formed the club went under the name of 'The Leek and Moorlands Bicycle Club'. At the first meeting of the club there were 6 men present, notable among these was the founder W.T. Cook who was a member of the club from the first meeting right up until his death on 4th February 1941, aged 91 years, he was also the club's first life member.
By the end of 1876 there were 12 members, by the end of the following year this had grown to 35.
In the early years the club had a high turn around of members typically only staying for 1 or maybe 2 years.
In 1877 a wooden wheeled machine was purchased so that members could practice on it. To hire this machine was 4d per hour for the first three hours, 3d per hour for the next three and 2/6 for the whole day. For non members the price was higher being 1/6 for 3 hours, 2/4 for half a day and the whole day price was 3/-, which in 1877 was a lot of money!
On the 14th of September 1878 the club held its first race, a handicap race from Leek to Sutton Toll Gate and back. Although the name of the winner has been lost the race continued and is still organized and run to-day incorporating the club's 5 mile time trial and followed on occasions by a popular Pie and Pea Supper, although the course has been changed on several occasions.
At a special general meeting of the club held on 20th January 1879 Mr. J. Allcock proposed and Mr. J. Hawksworth seconded that the club name should be changed from 'The Leek and Moorlands Bicycle Club' to 'The Leek Bicycle Club, this was agreed upon. ,
On September 10th 1883 the club's name was once again changed, but this time to its present form 'Leek Cyclists' Club" which has remained ever since. Although in 1976, the clubs centennial year, moves were afoot to amalgamate with the new 'Staffordshire Moorlands Athletic Club' and that the name be changed accordingly. It seems a shame that the club could have ceased to exist so close to it's 100th anniversary, thankfully this did not happen and the club celebrated it's 100th birthday and we will be celebrating it's 140th birthday this year.
In 1881 a set of rules was introduced to cover the conduct of riders in races:
1. That no competitor be allowed to run without a bell,
2. That competitors turning at the pivot man will follow the left arm round,
3. Any competitor willfully following another shall be disqualified,
4. All objections to be logged at the time to the Master, who shall bring it before the committee at the next meeting for a final decision.
Was this the start of the RTTC? [The National body governing Time Trials.]
Leek Cyclists' Club has always had organized club runs but it wasn't until March 4th 1928 that the club had its first official Sunday run. Up until that point they had always taken place on Saturdays. The first club runs were more like adventures rather than nice gentle runs in the lanes. Bearing in mind the state of the roads and the equipment that they used, the distances they traveled were amazing. Typically a run would leave between 7am and 9am and having stopped for dinner and probably played football or paraded the town sampling ale then stopping for supper on the return journey arriving back in Leek some time in the early evening. During the 20's and 30's runs became even more adventurous; one particular run in 1936 was 160 miles long.
Throughout the 1950's summer night run's were popular, these commonly started at around 10 o'clock Saturday night and members would ride through the night so as to arrive at the destination at around breakfast time. The destination of these runs were normally to a seaside town, such as Southport. After breakfast the club would start back home to arrive back in Leek on Sunday evening.
Detailed logs have been kept of most club runs since the club was founded but sadly some of the early volumes have been lost. Following here is extract from one of log books of a 100 mile ride on September 1st 1935.
A necessary early start brought it's usual result being fewer members, but still the morning had that slight nip in the air as we descended Mill St. and on reaching the old toll house we delved into our favourite lanes towards Marton, after following a sign post which some 'lune' had turned, we changed direction somewhat and put two extra (but not wanted) miles on. Arrived at Holmes Chapel about 10 am with 24 miles up we hadn't done too badly. On the way to Middlewich two others "caught up" and with "others on the way" it seemed as though we would be a good "muster" eventually. Proceeding through Winsford, Kelsall and Tarvin, a rather 'dirty ride', we arrived at the historic city of Chester a dozen strong. After what appeared a long while dinner ready was announced and we set too. After which a stroll round the walls by a few brought starting time to 2.30 and proceeding over the bridge to the church we entered Eaton Park and rode slowly (being the only vehicles allowed), till we reached the Golden Gates and Eaton Hall, dismounting to "get an eye full" at the solemn but stately building. Resuming round the monument with the Golden Shieves, continuing through the park and over the Eckleton Iron Bridge to the main road. We hadn't proceeded far when a good shower made us cape up for a while and on reaching Farndon we turned left for Broxton and by various lanes we arrived on the main Nantwich Road at Acton and through the former to Blakelow for a well earned tea and rest at Mrs. Dodd's' where six others were waiting. The return was through Betley where we met a rainstorm and caped up until we were nearly home via Newcastle". .
Runs of this nature are very rare nowadays unless you are on tour. Today's runs are a contrastingly different affair, setting off from Leek at 9am. They are shorter and quicker than of old with me emphasis on training for the forthcoming season rather than just cycling for cycling's sake.
In the early days the cycling season, including club runs, used to run from March to October. Now cycling is an all year round affair with club runs from October to March and then most people start racing or taking part in "sportive" type rides which is a big turn round compared to 1933, there were 54 members yet only 10 took part in races,
Over the years the club has enjoyed many successes on the road in time trials and in bunched racing, notably lan Mycock won the 1981 G.H.S memorial 10 mile National Schoolboy time trial championships for under 16 year olds with a time of 22 mins 45 secs. In the 1960's Andy Gilman won the Senior Divisional road race championships beating top riders Les West and Brian Rourke.
Many club records have been broken over the years. Gary Thomas was an outstanding rider during the late 80's who claimed records at 10, 25 and 50 miles recording 20.05 mins., 52.01 mins. and 1hr 46 mins. 00 secs. respectively. But some records are out of reach, for example Kevin Pickfords' 5 mile time trial on 2nd October 1974 with a time of 8 mins 14 secs, this is an average speed of 36.44 miles per hour! although this was not on the usual course and will be a difficult record to beat on today's courses.
1988 was the last year that there were a many juniors in the club with 11 members under 18 years of age,
As well as achieving a high standard in races the club has continually promoted top class events including the 1966 National Amateur Road Race championships which was won by local star Les West who went on to take a silver medal at the World Championships. As well as road races the club has promoted many successful town centre criteriums attracting crowds of 5,000 or more.
The club still promotes events but in recent years the emphasis has been directed towards organizing "sportive" rides which are now gaining great popularity.
During the time the club has been in existence membership has varied from the boom times of the late 1940's and 1950's to it's leanest spell during the winter of 1972/73 when there were only four members left, Glyn Hewines, Fred Sharrock, Dave Briand and Russel Mycock who thankfully refused to let the club die. and it is now healthy again and looking to go from strength to strength into the future
Currently the club has regular weekend runs on a Sunday throughout the year and during the summer months organize Monday evening social rides followed by a pint and a chat. Summer also sees members taking part in local Time Trials and road races, with many members now taking part in sportive rides both at home and abroad. '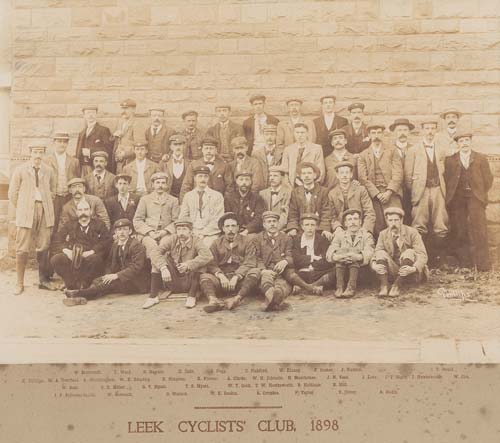 Leek Cyclists Club members meeting in 1898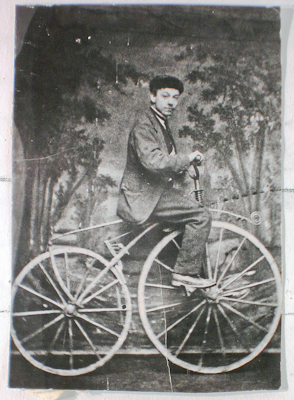 The wooden wheeled machine the Club brought in 1877 ridden by a club member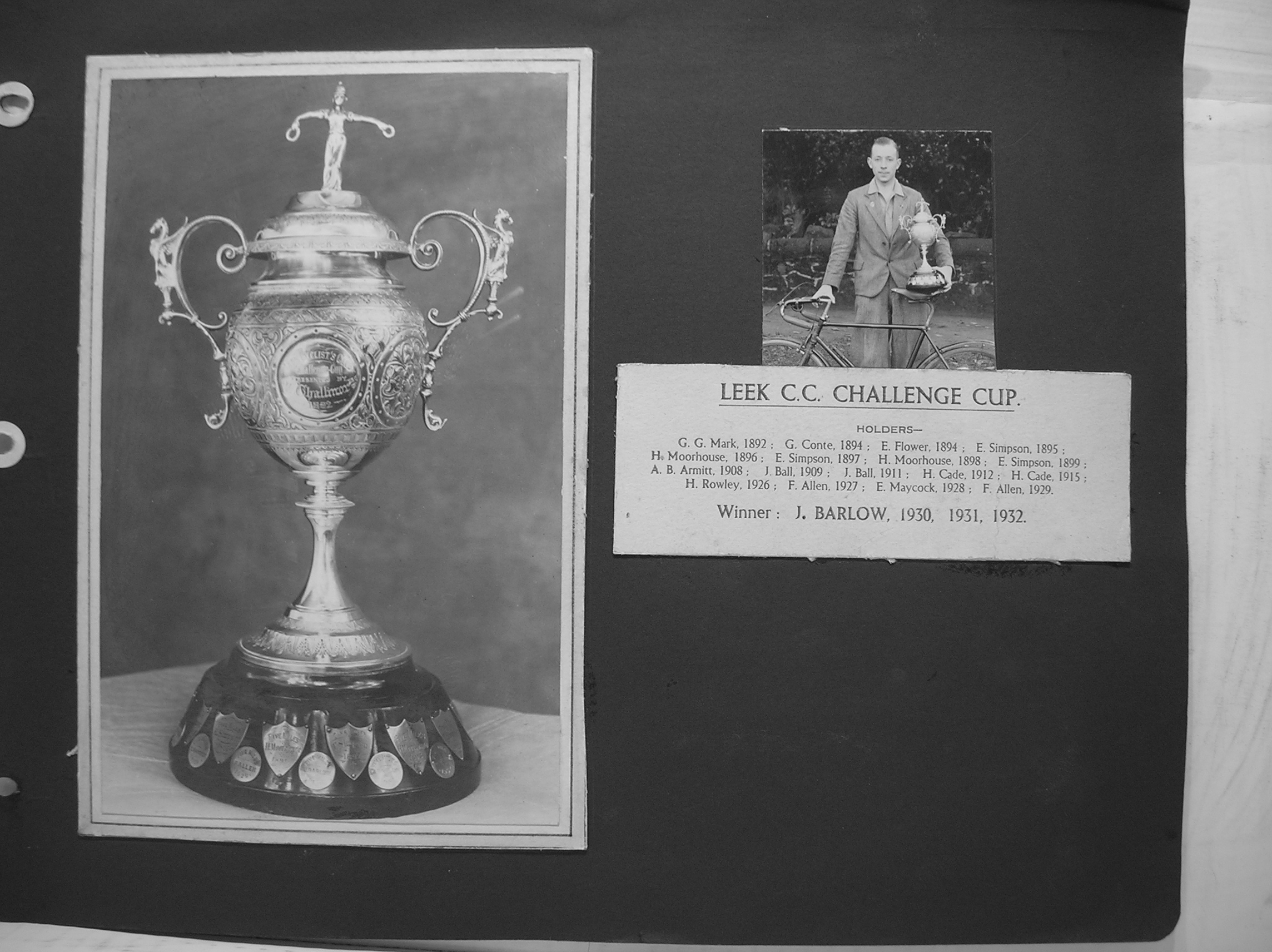 Leek Cyclists Club Challenge Cup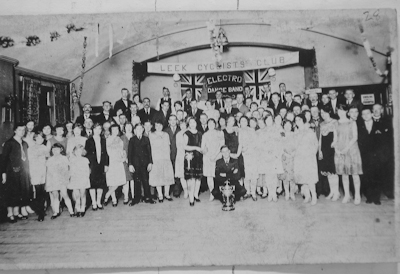 Club members at the Club's Annual Dinner in 1928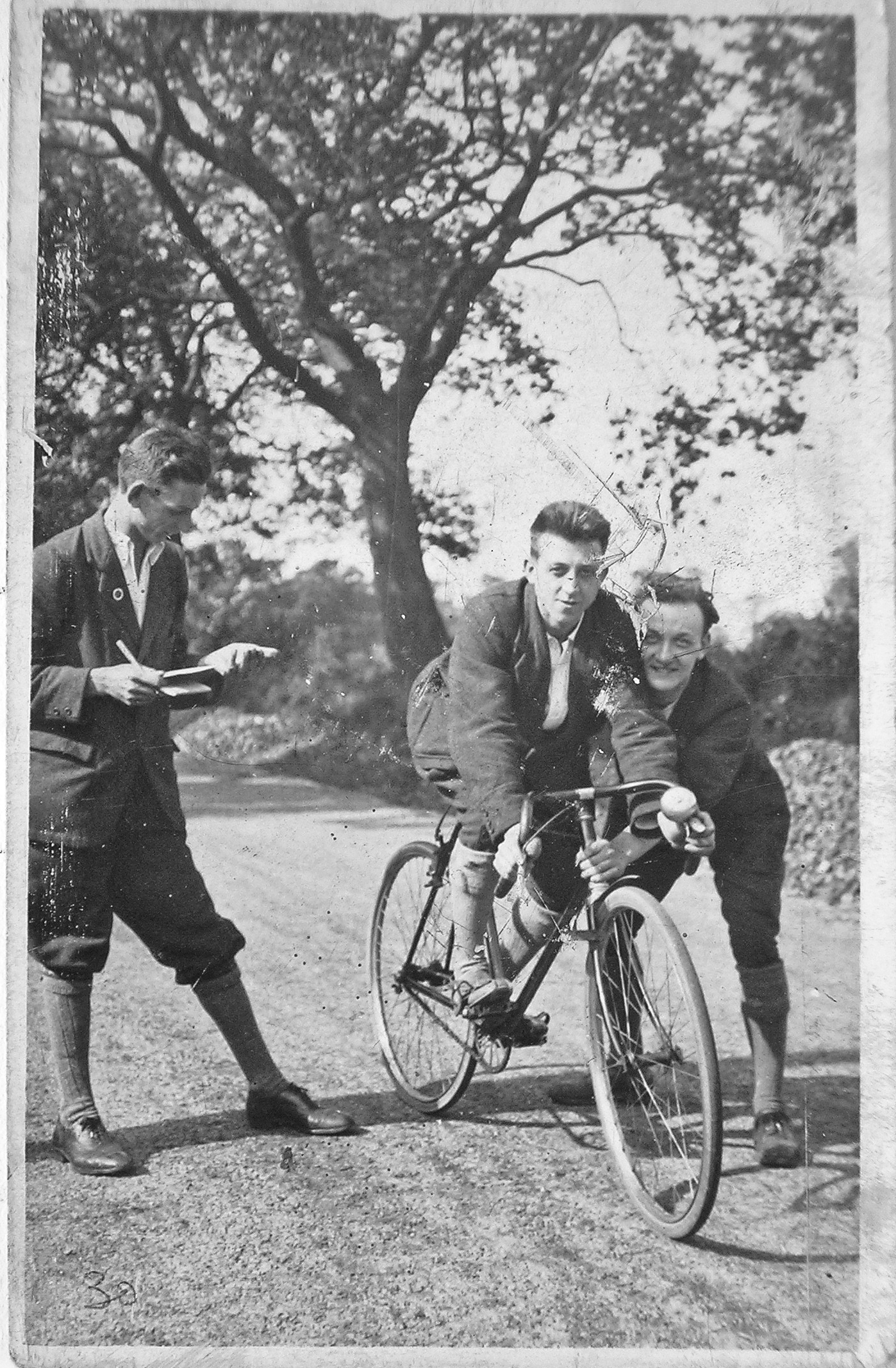 At the start of a Club Time Trial in the 1930's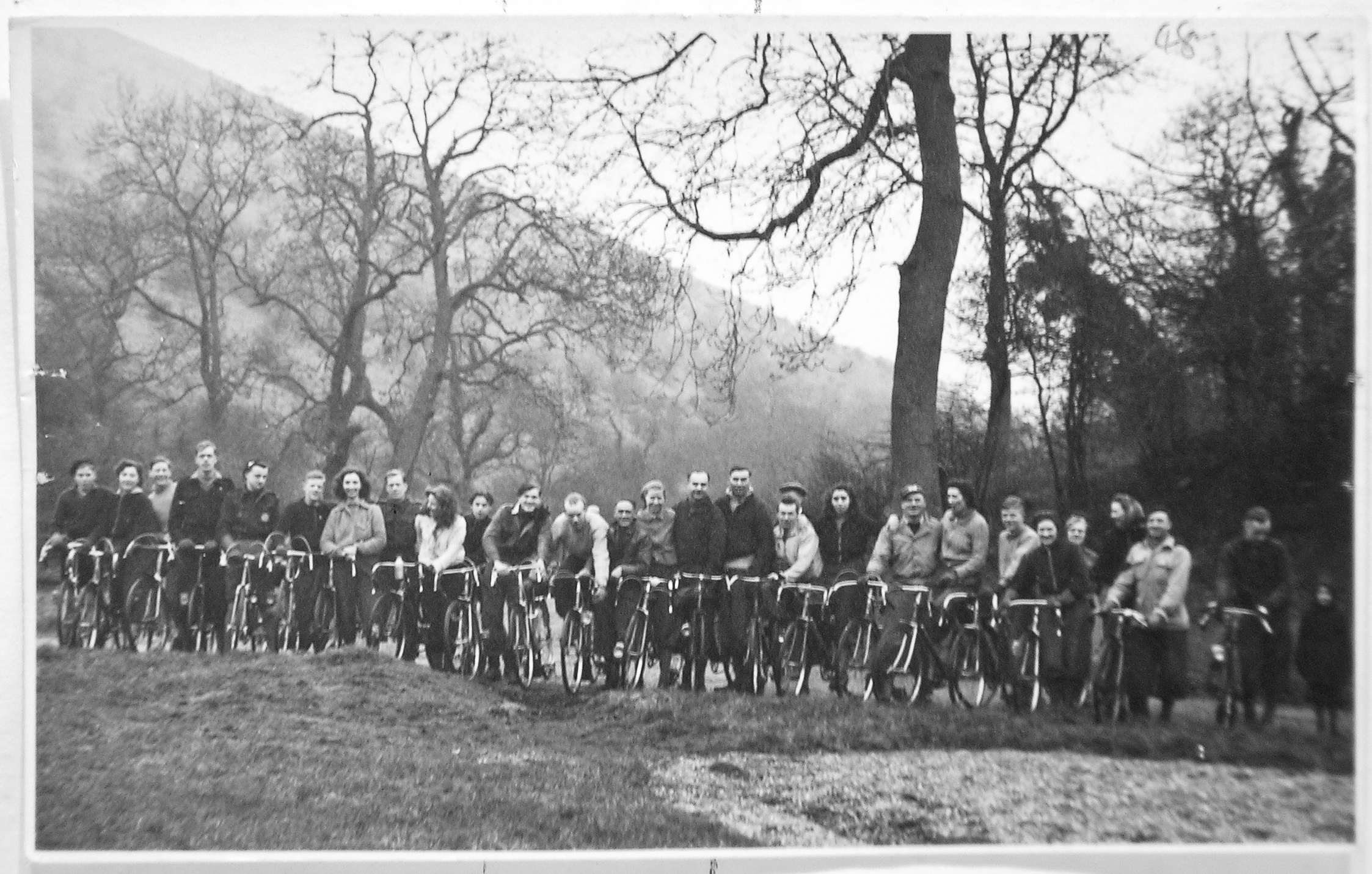 Club Run to Wetton Mill on November 28th 1948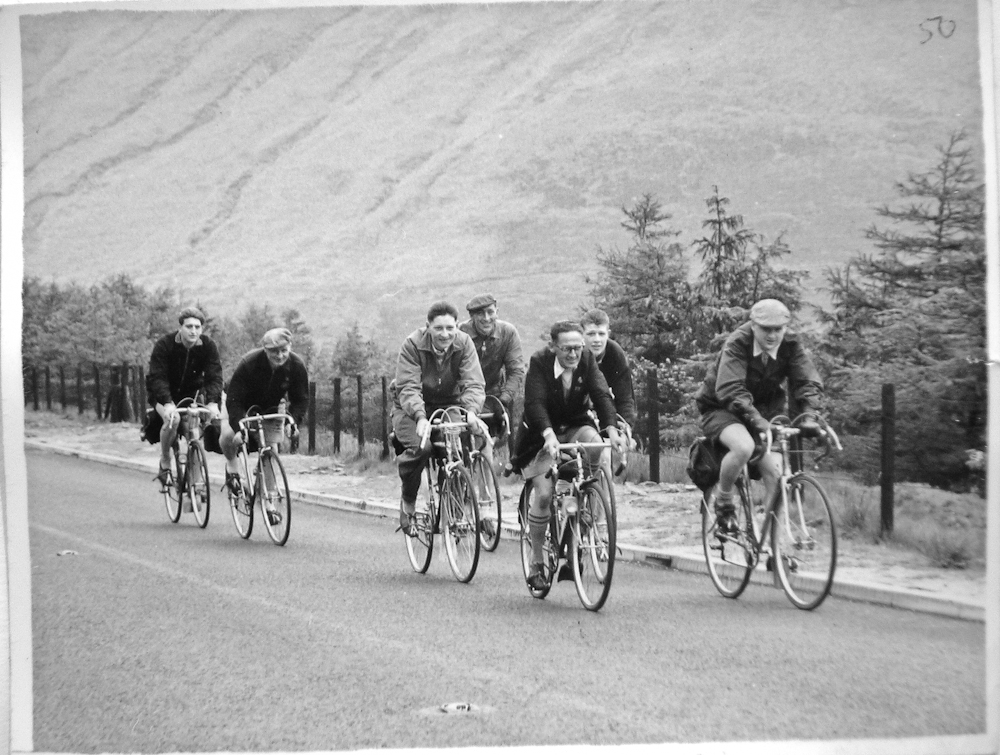 A Club Run on Snake Pass in 1956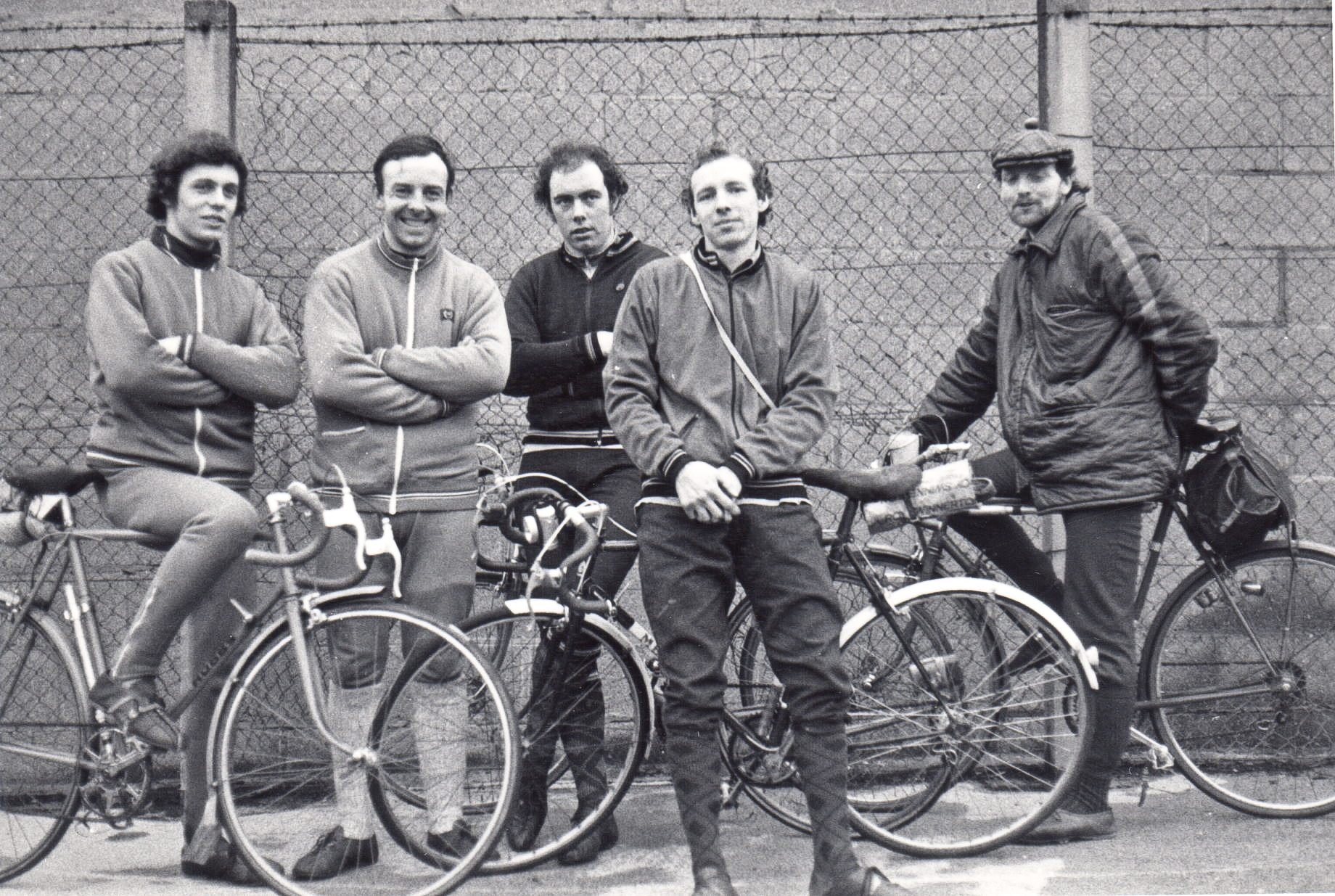 Club Members at the start of a Reliability Ride in the 1970's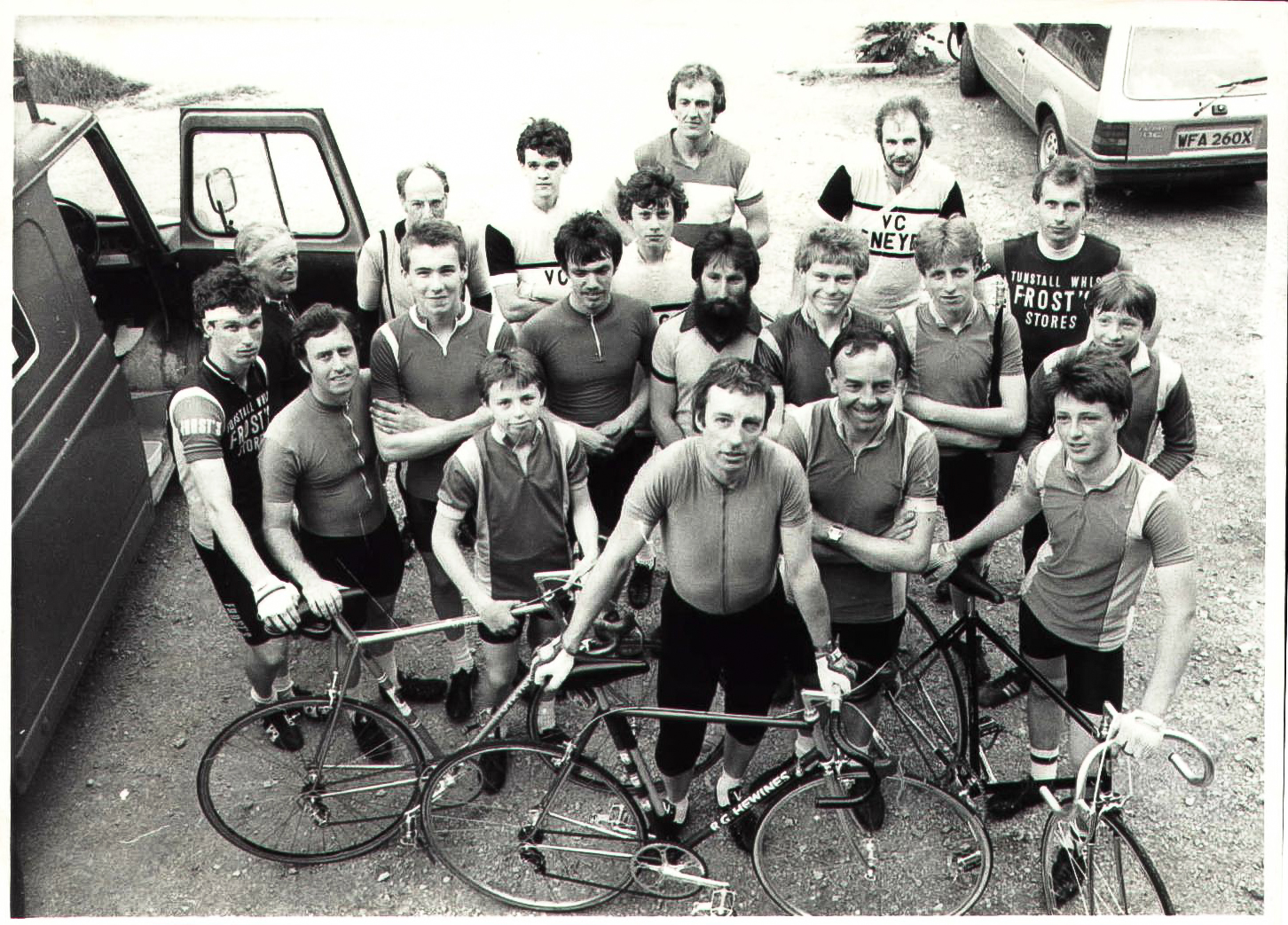 Riders at the Club's 10 Mile Time Trial at Pool End in 1983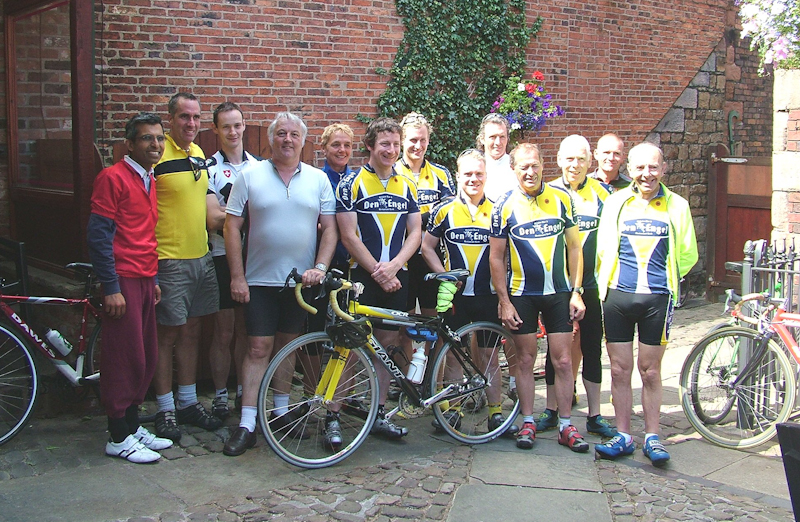 Riders who attended an invitation Club Run in 2005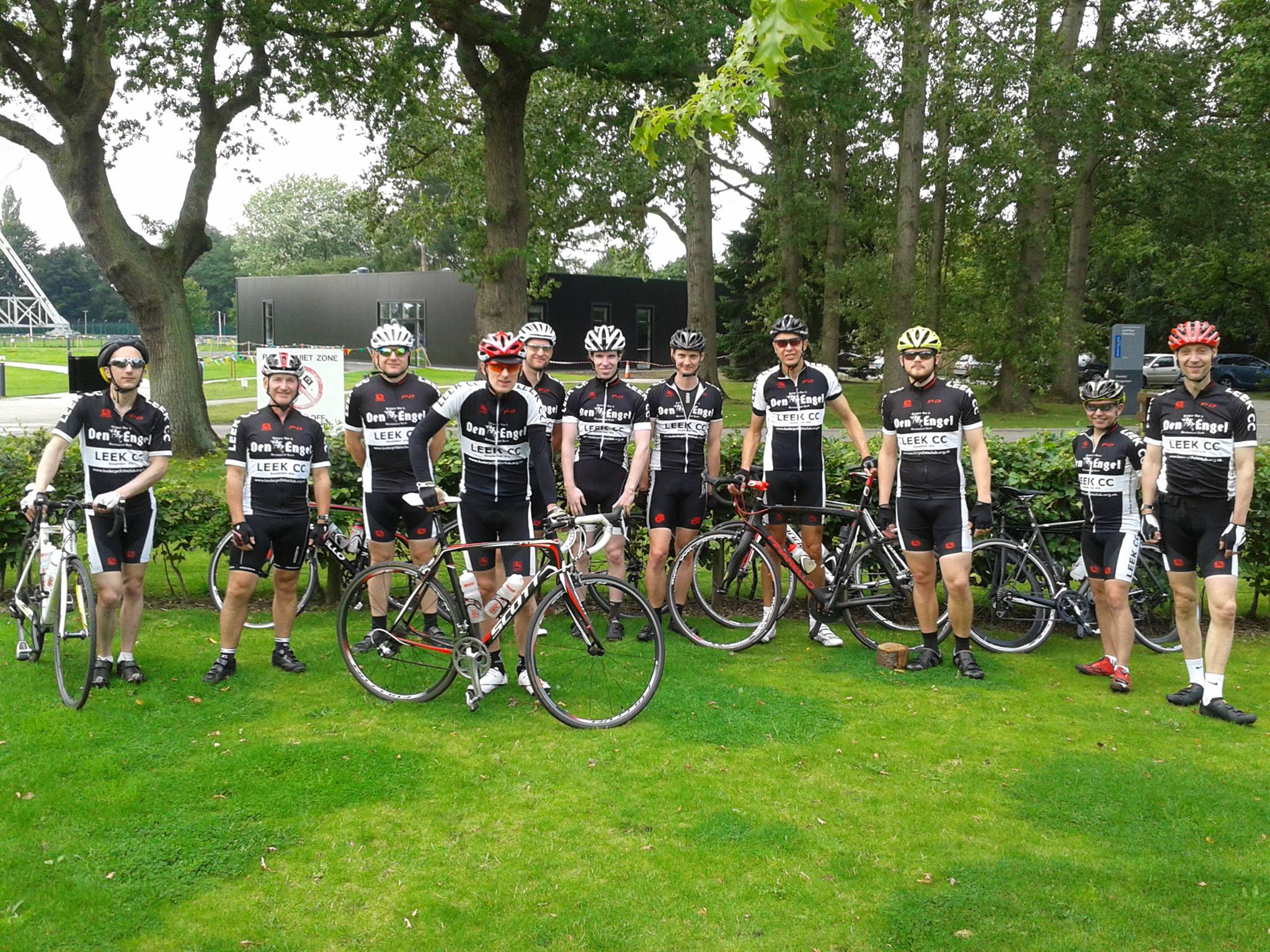 A Club Run to Jodrell Bank in August 2015
Please do not use any of the above photographs, in any article or publication without asking the  permission of Leek Cyclists Club, thankyou.