Sixty Seven riders turned out to ride the annual Paul Derbyshire Memorial Hilly Reliability Ride, which is a scenic 53 Mile through the Peak District. Thanks to Phil Gayes's pleading with the rain gods, we had a warm and sunny day. We set out in small groups to avoid a mass start with the riders setting out along the Ashbourne road before turning left to commence battle with School lane, Bradnop. A fearsome climb but one that Jo Clay demonstrated how it should be done. Thankfully, it was down hill to Oncote before turning for Grindon and the Manifold valley. The road in to the valley is littered with potholes and gravel and I saw one rider almost lose control on a corner but somehow he stayed upright, a master class in bike handling. It was a pleasant ride along Milldale and in to Parwich.  The riders then had the steady climb up to Longcliffe before the downhill stretch in to Winster. Of course, there was a head wind all the way.
The river Lathkill was in full flood , not something I have seen before as it is normally quite shallow. Both myself and Paul Haywood had gear problems on the climb to Youlgreave, strange how this issue chose this moment to make itself known and not before. I had to pull over for a energy gel and to admire the view, quite hard for me to lose the Touring cyclist mentality. I had to work hard to catch up with the riders in front on the road to Monyash. There was some rough patches of road as I reached Monyash, I hope other riders managed to avoid theses as it was quite a jolt to myself and the bike. I managed to catch up with the Black Horse Velo team and we carried on towards Parsley Hay before turning for Crowdecote. Longnor was soon reached and we turned for the last climb up to Fawfield Head and Morridge. At this point, my legs were protesting but with leek in view, I pressed on and pulled up outside Den Engles to sign off and enjoy a biscuit which Phil Gayes tried to pass off as his own baking. Is there no end to this mans dedication to the club? In all, a great day out in the local countryside with some great riders and I hope everyone had a enjoyable ride with no miss-haps. Thanks to Phill Gayes and other members who put out the signs and organised the ride.
Written by Nick Avins Club Rider and day dreamer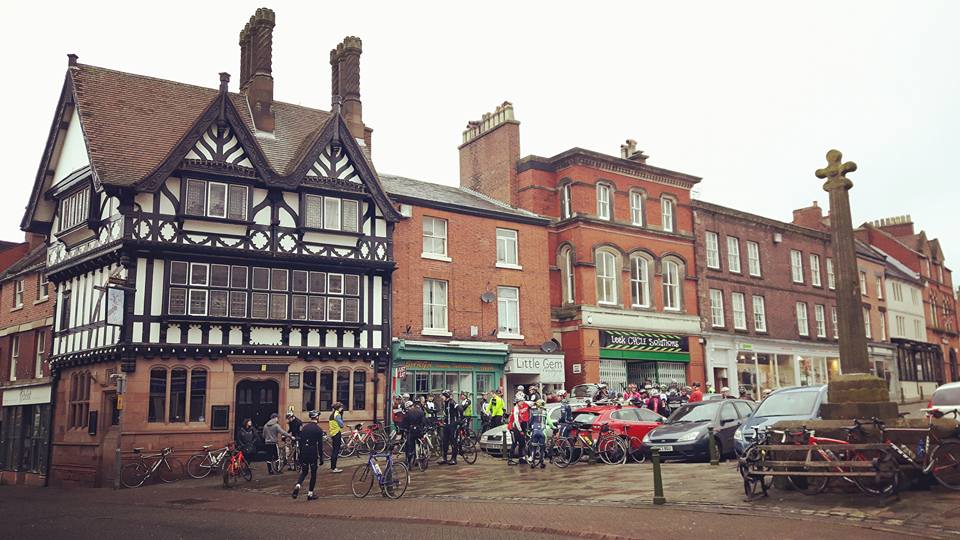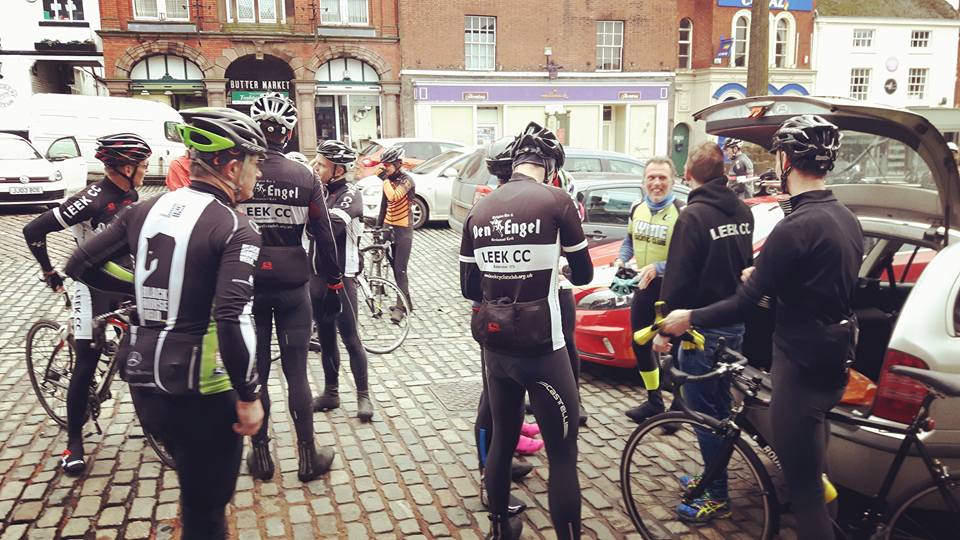 After the ride the riders and friends enjoyed a well deserved buffet at The Den Engel Belgain Bar in Leek, which was then followed by the Clubs Award Presentation(see the Events page for the winners).  Well done to everybody who rode and thank you for supporting the event. The club would also like to thank everybody who helped to organize the event.