Eleven riders set out for Edensor in the unusual warmth along Buxton road before heading to Thornclife. Here Phil S decided to carry on a shorter ride but it was great to see him out with the club. We carried on up to Morridge and dropped down in to Warslow. Here Dave M felt a little unwell and decided to head back via a shorter route, again, great to see him out.  The peleton carried on through Hartington and Longdale before dropping in to Monyash. Dan N also turned off to head back to Leek. There was a brief stop for some navigational discussions before we reached Bakewell and again stopped to chat about which way to go before setting off for Edensor. We soon arrived at the cafe but could not bag a outside table to enjoy the sun but we were offered a large table indoors. Riders were soon tucking in to some quite artful plates of food that looked amazing and were much commented on.
we decided to head back via Baslow and Calver and Great Longstone and Little Longstone before reaching Ashford in the water and on to Sheldon Bank. Here Rob B took the KOM title, well done Rob!. As I am using a Cortisone cream to treat a painful skin complaint, any of my results are null and void and yes, I am booked on Oprah for a full confession.
We passed through Monyash again and on to crowedecote and Longnor where riders took the chance to use the shop for much needed sugar supplies. We decided to head to Reapsmoor and take on the long climb to the Mermaid. Steve W led the group all the way up to the top, good effort. We re-grouped and headed back in to Thornclife and arrived back in Leek at 2.20PM after a tough fifty four mile ride. Thanks to Sean M and all who helped lead the ride.
Nick A, Whichita Linesman (Trainee)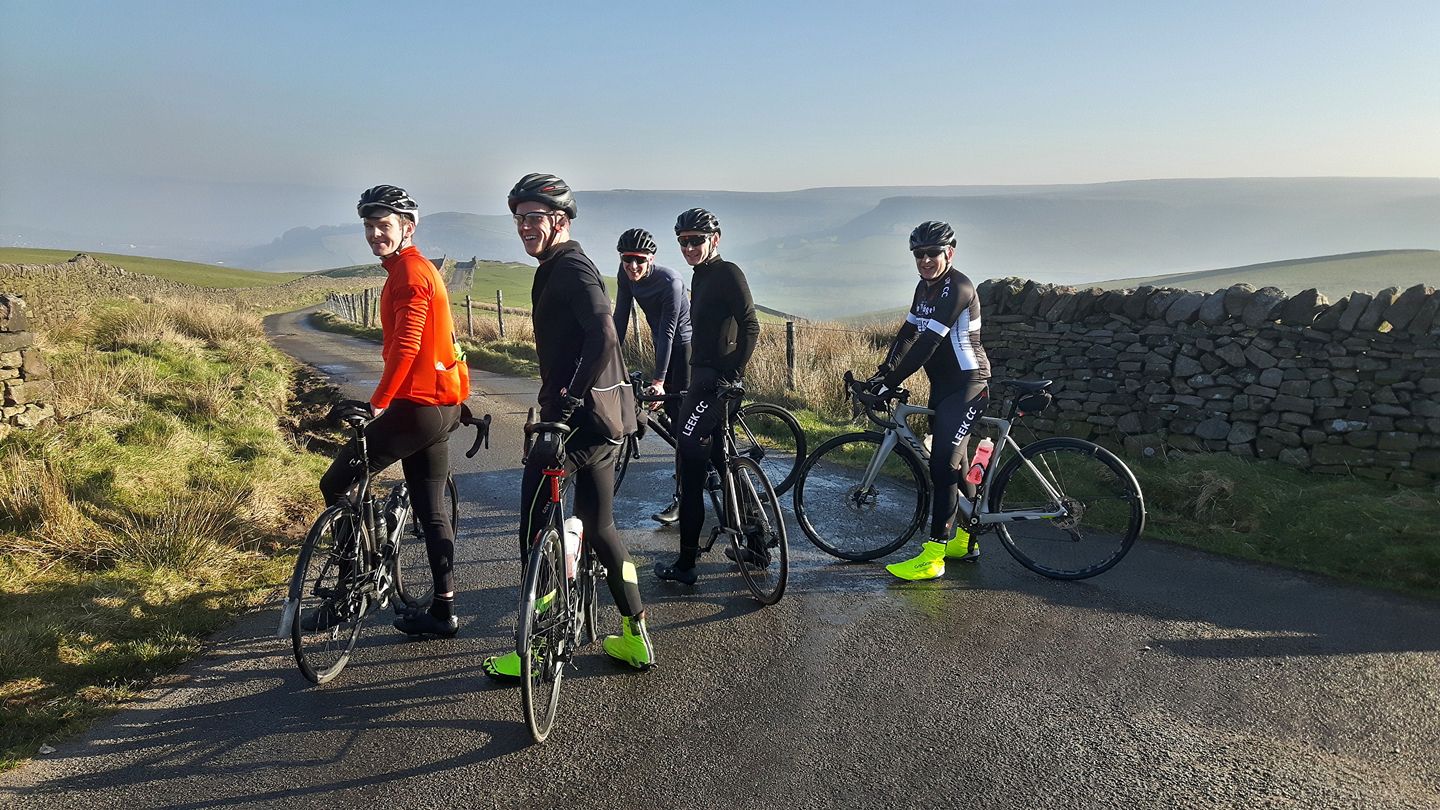 Above is a photo from the 8am ride, they enjoyed a hilly ride over to Tideswell via Wildboarclough and Combs.