The Leek Legbreaker of 2017 saw the biggest numbers to date turn up to tackle the "Hell of the Moorlands" an 82 mile loop of Leek and the surrounding areas, toughest climbs, including, llam, Grindon Moor, The Hollinsclough Rake, Gun Hill just to name a few. Total ascent would be approx 8,000ft of climbing. This year Andy Bain and the members of Club had so kindly organised and arranged for the entry fee to be donated to my Dad -Karl Clay – who was a regular club rider and a talented mtb racer who was left tetraplegic after a MTB accident last year. The money raised will be incredibly helpful in getting Karl back on a bike and back off roading again where he belongs. I speak for all my family, there are no words that can describe our gratitude, how you have all made this possible and changed his life for the better.
So as 9am came and went we were all raring to go & we knew this was no ride for the faint hearted. So we set off at a steady pace knowing what we had to come! All 82 of crazy cyclists were now on their journey to tackle one of the biggest challenges of all. The weather gods looked to be shining down on us, which would make the ride much more pleasurable. Everyone was smiling and discussing what part of the course they thought was the most terrifying! The most stand out fear amongst the peloton was of course Hollinsclough rake! 20% of pure evil! You need a good range of gears for this one!
But before getting to this part you have to do a gruelling 40 miles. Luckily a fantastic team of people, including Andy Bain, Alison Held, Sarah Coates, Phil Gayes ,Nick Avins & George and Margaret who had been preparing the route, had an amazing feed zone for us all to enjoy. There was a huge range of foods and refreshments for us all. Including tea, coffee, juice, water, cakes, pastries, bananas biscuits, you name it, it was there.
My Dad had made it to the feed zone to meet everyone too which was fantastic, it was great to have him their so people could see Dad again & see where there incredible donations are going and how it will help. Once riders had refuelled it was off again to tackle yet more hills. Everyone still seemed comfortable and happy, taking in new roads, new scenery and simply, the very best of the Peak District has to offer. You know the saying, 'You don't get something for nothing' and it does make you work for it. But my word, it is worth it. All riders made it round, still with smiles on their faces, albeit with a few punctures and mechanicals, and I speak for myself and Andy Magnier here, and I believe one or two others experienced this insane localised monsoon. We got caught in several of the most heaviest downpours. Biblical rain showers that were bouncing of the ground and turning the roads into a river.
Once back at Den Engles in Leek – who kindly let us smelly, wet and dreary cyclists inside, we were able to reflect on the days outing. Over 5 hours later and over 8000ft of climbing we were all ready for a beer! All in all we all managed to raise an incredible £541.00 – We would like to thank everyone so much for their kind donations and look forward to showing you all where it is going. See you all again next year!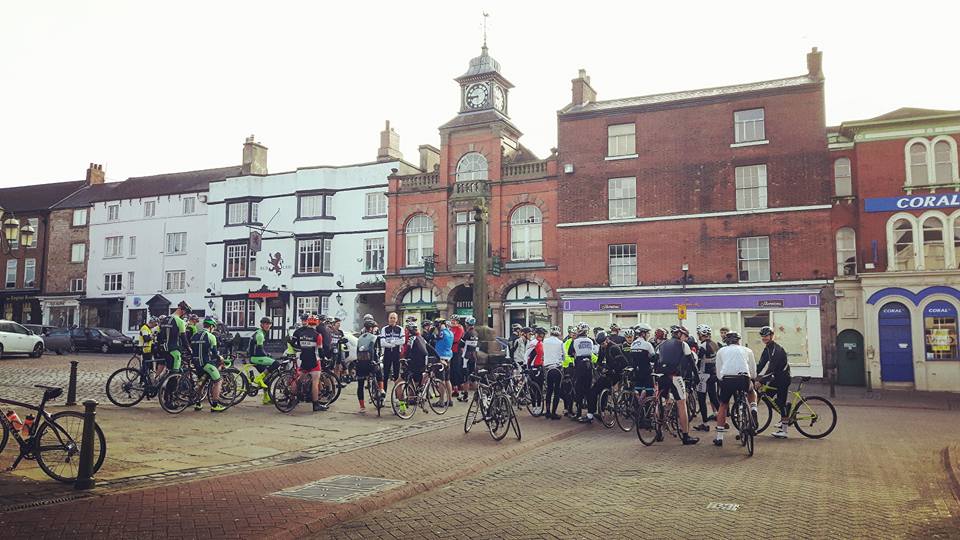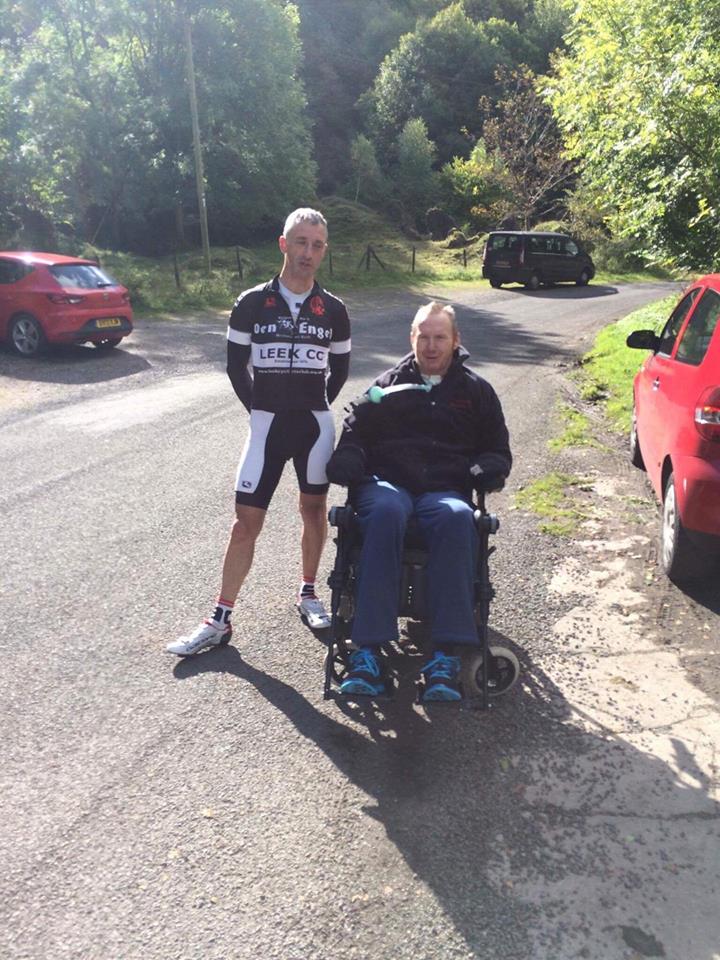 Tony Cope & Karl Clay at the feed station at Ecton